p53 database
MUT-MAT 2: p53 mutation prediction
p53 mutation in cell lines
(new)
p53 mutation and cancers:
an extensive analysis of p53 mutation in every cancer
p53 mutation in breast cancer: about apples, oranges and unusual p53 mutations:
a response to Patoc et al.
p53 mutations and cancer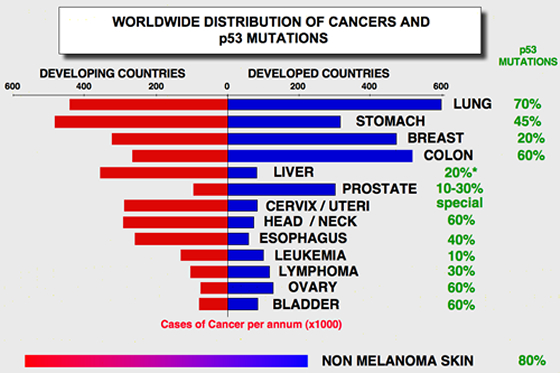 You have access to different types of cancer either via the menu on the left or by clicking on a specific cancer name on the map below.
The greatest contribution to the study of p53 mutations has been provided by molecular epidemiology and its applications.
p53 mutations in skin cancer
| | |
| --- | --- |
| EXPOSURE | CONSEQUENCE ON THE p53 GENE |
| UV RADIATION | high frequency of C->T transition at dypyrimidine sites in skin cancer |
p53 mutations in lung cancer
| | |
| --- | --- |
| EXOSURE: | CONSEQUENCE ON THE p53 GENE |
| SMOKING | High frequency of transversions - hot spot at codons 157 and 158 in lung cancer |
p53 mutations in liver cancer
| | |
| --- | --- |
| EXPOSURE | CONSEQUENCE ON THE p53 GENE |
| AFLATOXIN B1 | High frequency of transversions - hot spot at codon 249 in liver cancer |